Mission and Goals
Mission: Our mission is to provide students a clinical experience that will prepare them to understand, evaluate and treat mental disorders in a context defined by knowledge, empathy and professionalism.  The clerkship builds on a foundation of medical knowledge, adding clinical and communication skills to enable the student to understand behavioral problems using a biopsychosocial–cultural model, to formulate a well-supported differential diagnosis and to construct an effective treatment plan.
Goals: After completion of the six-week clerkship, students will:
Demonstrate sufficient medical knowledge, clinical skill, clinical reasoning, communication skill and professional behavior required to participate in providing care for people with mental disorders in a multidisciplinary and diverse setting.
Appreciate the multi-factorial aspects of health and illness in general, and the relationship between biological/medical, psychological, social and cultural aspects of health and illness that will enhance proficiency in clinical situations with all patients.
Have the opportunity to decide if a career in psychiatry is right for them and receive guidance on succeeding in residency training and in professional development.
Educational Objectives: By the end of the clerkship, students will:
Psychopathology: Demonstrate knowledge of the established and evolving neurobiology, epidemiology, clinical presentation, diagnostic criteria, differential diagnosis, treatment, course and prognosis of the major classes of psychiatric disorders, including substance use disorders.
Psychopharmacology: Demonstrate knowledge of the major indications, benefits, side effects and risks of commonly prescribed psychotropic medications and the principles of safe prescribing and monitoring though appropriate laboratory tests.
Psychotherapy & psychosocial interventions: Demonstrate basic knowledge of concepts of psychotherapy, including supportive, psychodynamic and cognitive-behavioral, and other psychosocial interventions, sufficient to explain to a patient and make a referral when indicated.
Referral and consultation: Demonstrate knowledge of when to refer to another medical specialty and how to utilize the input of the consultant.
Mental health system: Demonstrate knowledge of the structure of the mental health system and the influence of gender, race, immigration and socioeconomic status on diagnosis, access to health care and disparities in health care delivery.
Law & ethics: Demonstrate knowledge of legal and ethical issues relevant to psychiatry such as respect for patient autonomy, privacy and confidentiality, maintaining professional boundaries, evaluating decisional capacity and obtaining informed consent.
CLINICAL SKILLS, CLINICAL REASONING & COMUNICATION SKILLS:
Psychiatric evaluation: Conduct a psychiatric evaluation in an empathic manner that facilitates formation of a therapeutic alliance with patients of diverse backgrounds, information gathering and documentation of adequate history, mental status examination, and appropriate physical exam.
Risk assessment: Perform safety/risk assessment and identify risk factors for suicidality, aggression, dangerousness, intoxication and withdrawal syndromes.
Formulation, diagnosis and differential diagnosis: Formulate and document accurate diagnosis and differential diagnoses utilizing basic knowledge, the biopsychosocial-cultural approach and the current diagnostic system.
Patient centered and evidence-based care: Develop appropriate diagnostic and treatment plans based on patient information and preferences, clinical judgment and appraisal of up-to-date scientific evidence from the medical literature.
Patient/family education and follow-up: Demonstrate ability to counsel and educate patients and their families to empower them to participate in their care and enable shared decision making, to monitor and document clinical progress, and to alter diagnostic formulation and management in response to changes.
Communication & collaboration: Demonstrate interpersonal and communication skills, both written and oral, that result in the effective exchange of information and collaboration with patients, their families, and the health care team.
PROFESSIONAL BEHAVIOR:
Compassion, integrity and respect: Demonstrate compassion, integrity and respect towards patients, their families and staff that lead to rapport and therapeutic alliance.
Cultural sensitivity: Demonstrate sensitivity, honesty and responsiveness to the needs of a diverse patient population, including but not limited to sex, gender, age, culture, race, ethnicity, religion, disabilities, sexual orientation, immigration status, and socioeconomic status.
Advocacy: Demonstrate awareness of need to advocate for patients to reduce stigma associated with mental illness.
Ethical behavior: Demonstrate behavior consistent with ethical principles in the care of psychiatric patients including observance of professional boundaries and respect for patient privacy, autonomy and confidentiality.
Self-awareness: Demonstrate awareness of personal limits and biases, including their effect on patient-staff interaction and patient care, the need to seek consultation and supervision and the need to incorporate these into future practice.
Lifelong learning, personal and professional growth: Demonstrate a commitment to lifelong learning, personal and professional growth.
The above objectives are met by engaging in a combination of didactic study and supervised clinical experience.
Didactic study:
Classroom activities such as lectures, seminars, and student presentations
Self-directed learning activities such as Drexel Communication Skills Curriculum (doc.com), Firecracker and UWorld
Clinical experience:
Assignment to one or more interdisciplinary clinical teams in a variety of clinical settings
Performing psychiatric evaluations and follow-up, including conducting a psychiatric interview and mental status examination, constructing a differential diagnosis according to the current diagnostic system, and formulating an effective treatment plan by participating in clinical activities with members of the team under the direction of preceptors.
Requirements:  Students are expected to:
Attend all assigned clinical and educational activities in their clinical area and in the department and observe work hours (Note: absences and leaving early can decrease professionalism grade).
Be on call as assigned.
Complete at least one comprehensive case write-up and two focused write-ups (SOAP Note) and submit them in a timely manner
Complete assigned activities from the department's web-based curriculum (Firecracker, UWorld)
Complete other assignments given by the preceptor, e.g. class presentations, making-up for absences or deficiencies.
Complete modules 13 (managing strong emotions) and 15 (culture in the clinical interview) from the Drexel Communication Skills Curriculum (doc.com).
Keep the patient electronic log current and bring a copy to the mid-core evaluation and submit a copy for the final evaluation.
Do well on the final written exam (NBME subject exam).
Recommended Textbooks:
Introductory Textbook of Psychiatry, Black and Andreasen, APP (currently in 6th edition)
Study Guide to Introductory Psychiatry, Black & Cates, APP
Synopsis of Psychiatry, Kaplan & Sadock, Wolters Kluwer (currently in 11th edition)
Shorter Oxford Textbook of Psychiatry, Harrison & Cowen, Oxford University Press (currently in 7th edition)
New Oxford Textbook of Psychiatry, Gelder, et al, Oxford University Press (currently in second edition)
Psychiatry, Cutler & Marcus, Oxford University Press (currently in second edition)
Students are also encouraged to seek additional case-based reading, including journals such as the American Journal of Psychiatry, the British Journal of Psychiatry, as well as web-based resources and recommendations from preceptors (Up-to-Date, Medscape, etc.).
Study Guide:  Please follow the Firecracker study topics calendar as a guide for the student in addition to other web-based curriculum. 
Required Clinical Encounters and the Patient Encounter Log
The below list of complaints and diagnoses must be entered into your Patient Encounter Log (PEL) Program during each Core and Family Medicine Clerkship.
Link: PEL     https://myapps.sgu.edu/PEL/Admin/Account/Login?ReturnUrl=%2fPEL
The faculty in each specialty have identified specific clinical experiences that are a requirement for the clerkship. The PEL program is designed to track each student's patient encounters, clinical setting in which the encounter occurs, and level of responsibility. This program allows the school to standardize the curriculum. All patient's complaints and/or diagnosis encountered during clinical rotations must be entered into the (PEL) program. Entering the required clinical encounters "Must See List" is required during clinical rotations and will be displayed to the clerkship director for review on the final clerkship evaluation. Whenever possible incorporate the Communication Skill course topic for each required encounter. Never place patients' names or any patient identifying information in this program, this would be a HIPPA violation.
If students are unable to see a required clinical encounter, they must view the virtual visit link and watch the video. Once the encounter video is viewed, add the virtual encounter in the PEL as a Virtual visit.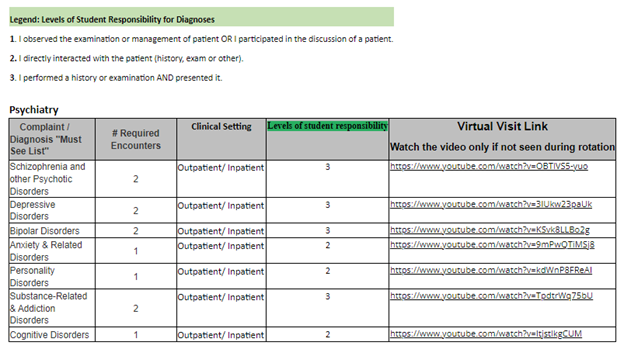 Student Midcore Evaluation Form

Clerkship: PSYCHIATRY

Rotation Start Date:

Student:

St. George's University School of Medicine

Hospital:

Completion Date:

Preceptor:
THE FOLLOWING ITEMS WERE REVIEWED/DISCUSSED (check):
Log:________ "SOAP" note: ________ Doc.com _______ UWorld _______ Firecracker ________
One-Minute Preceptor Model (Modified) - A Guide for Providing Feedback
C- Commitment: How do you think you did?
P- Probe for supporting evidence: What went well and what are the areas to improve?
R- Reinforce the good (positive feedback); "I really like…"
G- Guidance on improving errors and omissions (correct mistakes): Here's how you might try this in the future.
G- General rule: find a teaching point applicable to the situation
G- Goals for next time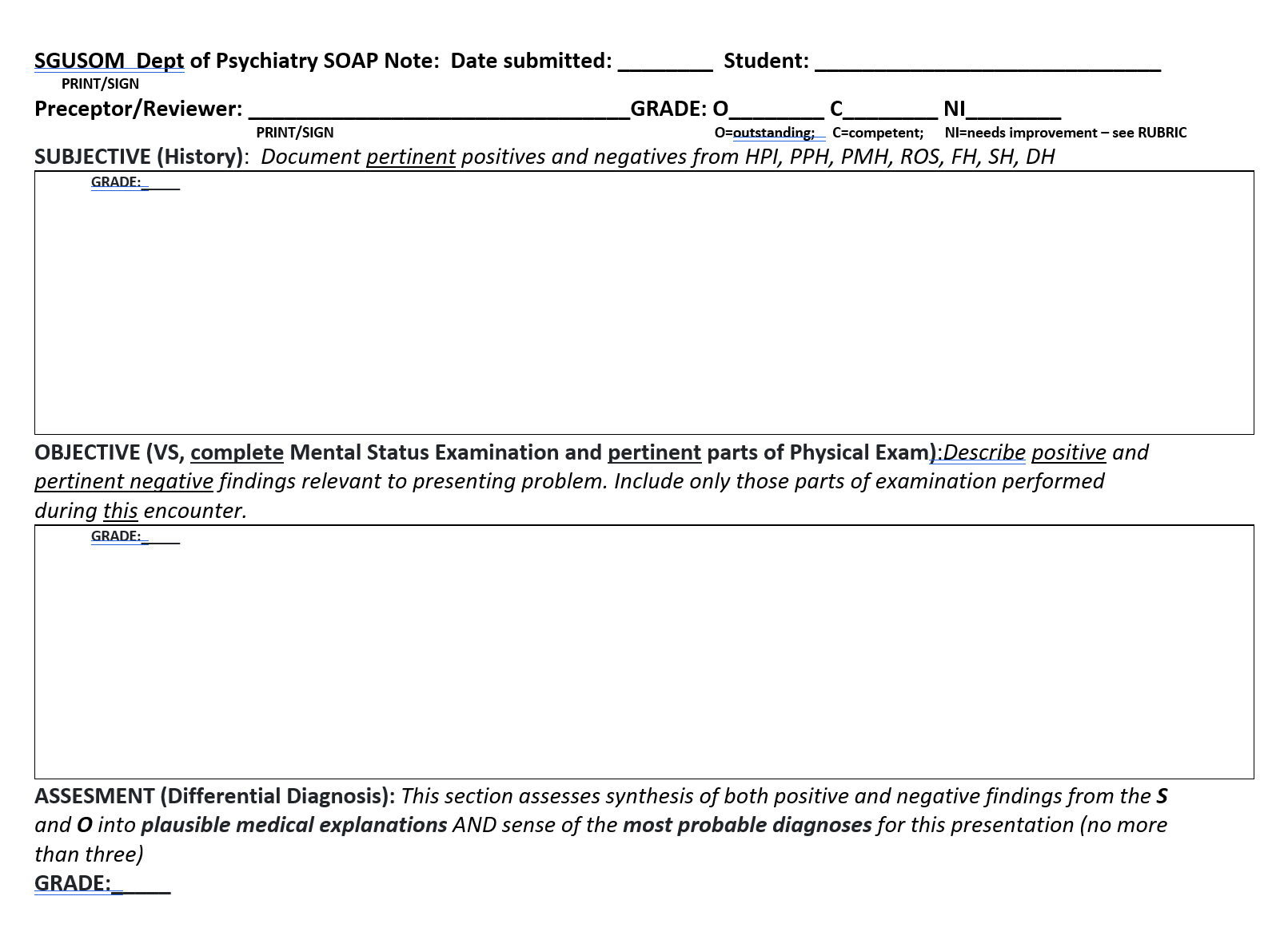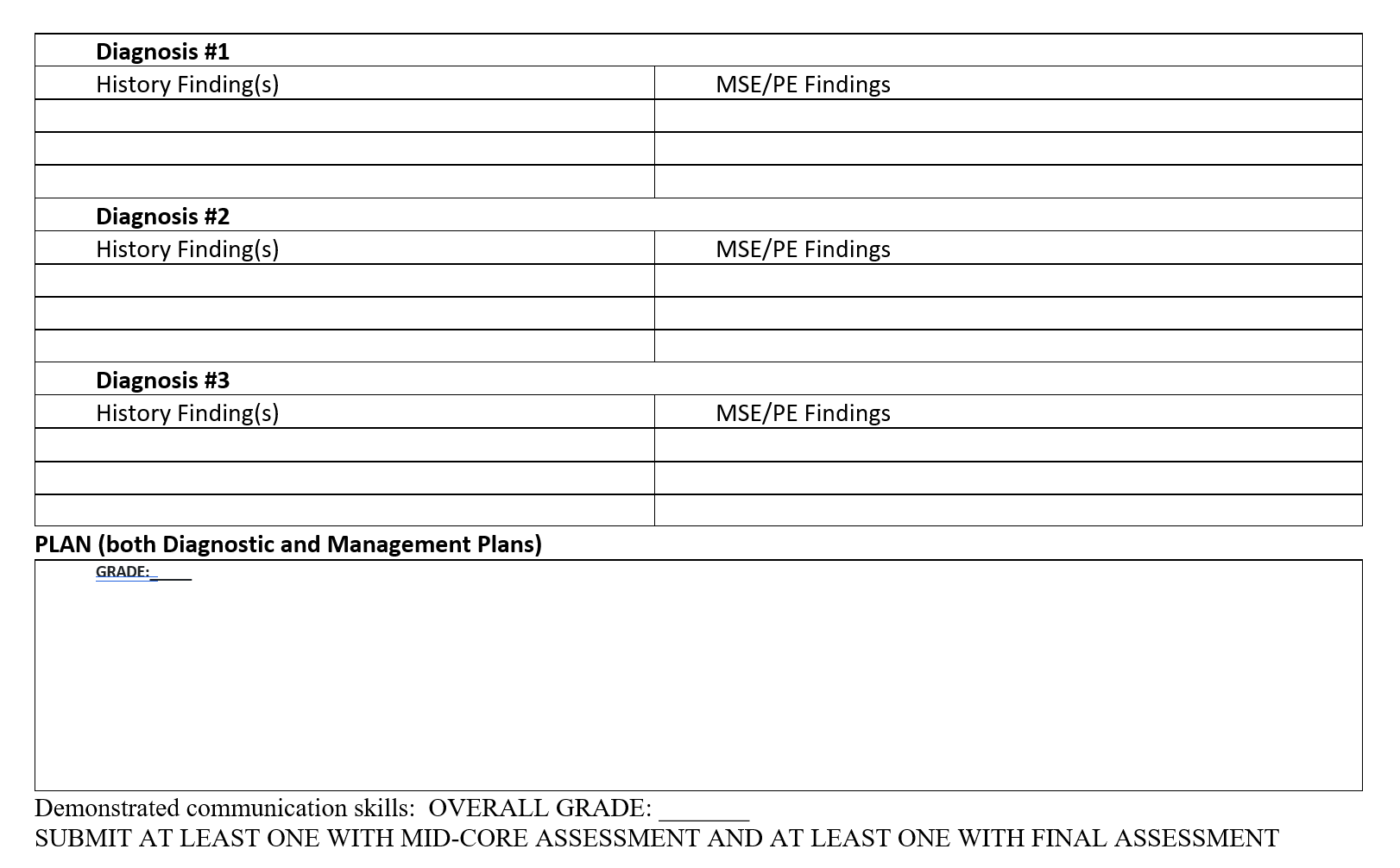 SGUSOM Dept of Psychiatry "SOAP" Note Scoring Rubric (Use of Grading AND Feedback to Student)