Clerkship directors must arrange for formative mid-core assessments of all students in order to discuss the student's performance including a review the Electronic Patient Encounter Log, Firecracker quizzes and case write-ups. These consist of individualized face-to-face  meetings with each student and completion of  the mid-core evaluation form (Appendix V).
The midcore assessment is designed to achieve the following:
Provide students with qualitative feedback early enough in the clerkship to allow time to address deficiencies.
Provide clerkship directors an opportunity to help students recognize their strengths.
Offer encouragement if the student is doing well or a warning with constructive criticism if the student is doing poorly.
Enable medical students to measure their progress in learning.
Comments in the mid-core might be integrated into the final evaluation.
Requirement:
As of May 2022, all students completing an Internal Medicine core clerkship must take a midcore assessment.
 
Assessment:
This is a formative (a low stakes) assessment designed to provide valuable feedback to students to optimize their learning strategies for the end-of-core NBME subject exam preparation. Modeled after the NBME clinical subject exam, the mid-core assessment will assess students' medical knowledge in the following areas of the curriculum:
Cardiology

Pulmonology

Gastroenterology

Infectious Disease

Nephrology
Completion of the midcore assessment is required for the Internal Medicine clerkship. Failure to complete this requirement may negatively impact a student's professional behavior component grade for the rotation.
 
Preparation:
Students will prepare for the midcore assessment in the following way:
Complete the first 5 weeks of the Firecracker topics posted on the Internal Medicine Sakai

site.

Utilize efficient independent learning skills for each mandatory Firecracker study topic

applying the Firecracker learning objectives.

Use the newly acquired medical knowledge to practice flashcards and solve daily

questions (Firecracker and Uworld)

Test retention with the mandatory weekly Firecracker quizzes.

Identify knowledge gaps with a custom remediation plan.
Administration:
Details related to the number of assessment items, the length of the assessment, and the schedule for the assessment will be posted to the Internal Medicine Sakai site. Students are responsible for identifying the appropriate assessment start time for their time zone and for providing advance notice to the Clerkship director, medical education coordinator and preceptor of the date and time of the exam to ensure Examsoft access is provided. Examsoft sign up instructions within the Internal Medicine Sakai syllabus site.

Students will need a computer or tablet (not a phone) with internet connection.

Students will be excused of all in-hospital clinical responsibilities related to their Internal Medicine clerkship on the midcore assessment day.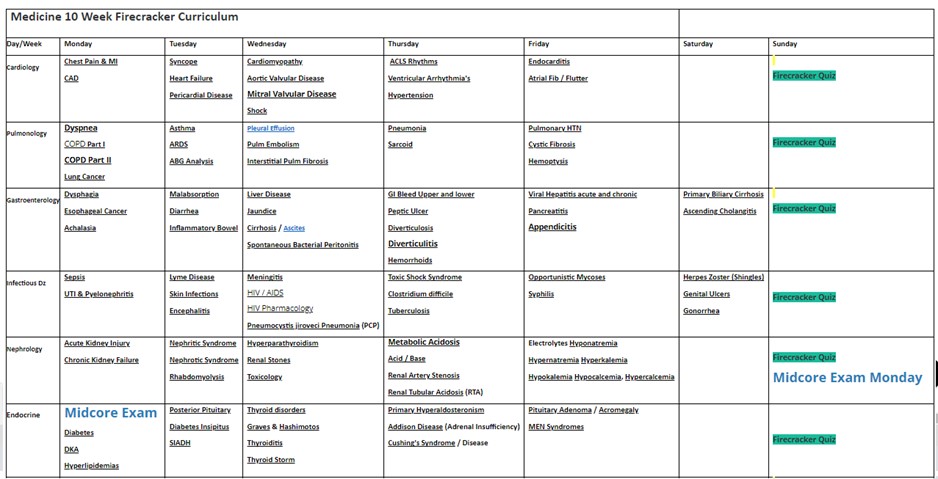 Results:
Once completed, a histogram of all scores with standard deviations will be used to identify weaker students. Students in the lower quartile (greater than 1 stand deviation below the mean) should speak with their academic advisor for counseling and study techniques.

The student's midcore exam score should be discussed during the clerkship IM midcore evaluation.