General Course Information
Course Director: Dr. Felicia Ikolo
Course Lecturer Name(s):  Ms Candice Benjamin, Mrs Kafi James-Lewis, Ms Reeba Lewis, Mr Kwami Jones, Mr Teddy Ikolo, Mr Tobias Clement and Dr Felicia Ikolo.
Course Director's Contact Information: X3425 fikolo@sgu.edu
Course Lecturer(s) Contact Information:                                 
X3811 tclement@sgu.edu

 X3821 tikolo@sgu.edu 

X3176 kjones@sgu.edu

X3811 rlewis5@sgu.edu

X3867 kjames@sgu.edu

X3766 cbenjam1@sgu.edu

                                  
Course Director's Office Hours: 9.00 a.m. -  10.00 a.m. on Fridays or by appointment at other times.
Course Lecturer(s) Office Hours: By appointment 
Course Management tool: To learn to use Sakai, the Course management tool, access the link https://apps.sgu.edu/members.nsf/mycoursesintro.pdf
Course Description: BIOL 331 - Molecular Biology Laboratory 
This course is meant to reinforce some of the Molecular Biology concepts and techniques discussed in the Molecular Biology lecture (BIOL 321), as well as expose students to routine Molecular Biology procedures, such as performing bacterial transformation, isolating and quantifying DNA, using restriction enzymes and gel electrophoresis for DNA mapping, PCR, Bioinformatics and Molecular Diagnostics. 
Course Curriculum Information
Course Objectives: 
Apply the scientific process for conducting laboratory and diagnostic experiments, testing hypothesis, interpreting data and communicating results.

Apply knowledge of the basic structures and fundamental processes of life at the molecular, cellular and organismal levels.

Apply knowledge of the interaction of subatomic particles and biochemical processes that define organic and inorganic matter.

Demonstrate effective communication of scientific knowledge.

Demonstrate problem solving and critical thinking skills.
Student Learning Outcomes:
Understand general safety techniques required in a molecular biology laboratory.

Utilize basic molecular biology laboratory techniques 

Apply problem solving skills to interpret experimentally derived data, and communication this information in the form a written laboratory reports.

Demonstrate the use of bioinformatics and web-based resources to obtain genetic information.

Provide students with experience working in small groups to conduct experiment and solve problems
Program Outcomes Met By This Course:
MCAT Topic Areas Assessed: Content Categories
Biomolecules have unique properties that determine how they contribute to the structure and function of cells, and  how they participate in the processes necessary to maintain life.

Transmission of genetic information from the gene to the protein

Genetic Code

The triplet code

Transmission of heritable information from generation to generation and the processes that increase genetic diversity

Mendelian Concepts

Recessiveness, Homozygocity and Heterozygocity

Highly-organized assemblies of molecules, cells, and organs interact to carry out the functions of living organisms.

The structure, growth, physiology, and genetics of prokaryotes and viruses 

Existence of plasmids, extragenomic DNA.

       
SAS Grading Scale - Grades will be assigned as follows:
A  = 89.5% or better
B+ = 84.5 - 89.4%
B  = 79.5 - 84.4%
C+ = 74.5 - 79.4%
C = 69.5 - 74.4%
D = 64.5 - 69.4%
F = 64.4% or less 
Course Materials:
A laboratory manual, lab specific PowerPoint notes and videos will be provided.
Supplementary Readings/Resources: as posted on Sakai.
Course Requirements and Percent of Grade:
Online quizzes and exams will be computer based using the Examplify software. Online practice quizzes for professionalism points will be via Sakai. 
| | |
| --- | --- |
| Professionalism: 0.25 point per activity (drop lowest, use 8 out of 9 Sakai quizzes).    |   2% |
| Online Quiz 1 (Labs 1 – 4) = 2 points    |   2% |
| Lab Exam 1 (Labs 1 - 4) = 32 points              | 32% |
| Take Home Assignments (Labs 5 & 7) @ 6 points each   | 12% |
| Online Quiz 2 (10% Labs 1-4; 90% Labs 5-8) = 2 points   |   2% |
| Lab Exam 2 – Final Exam (10% Labs 1-4; 90% Labs 5-8) = 50 points  |  50%  |
Exams will be given during normal laboratory period as determined by admin.  

There will be two take home assignments, and each will be weighted 6% of final grade.

Completion of all two take home assignments is mandatory for successful completion of this course.

Online Quizzes & Exams will contain multiple choice questions (MCQs).
NOTE:  No make-up labs will be given.
You will receive a mark of ZERO if any part of your take home assignments looks similar to someone else's
Course Schedule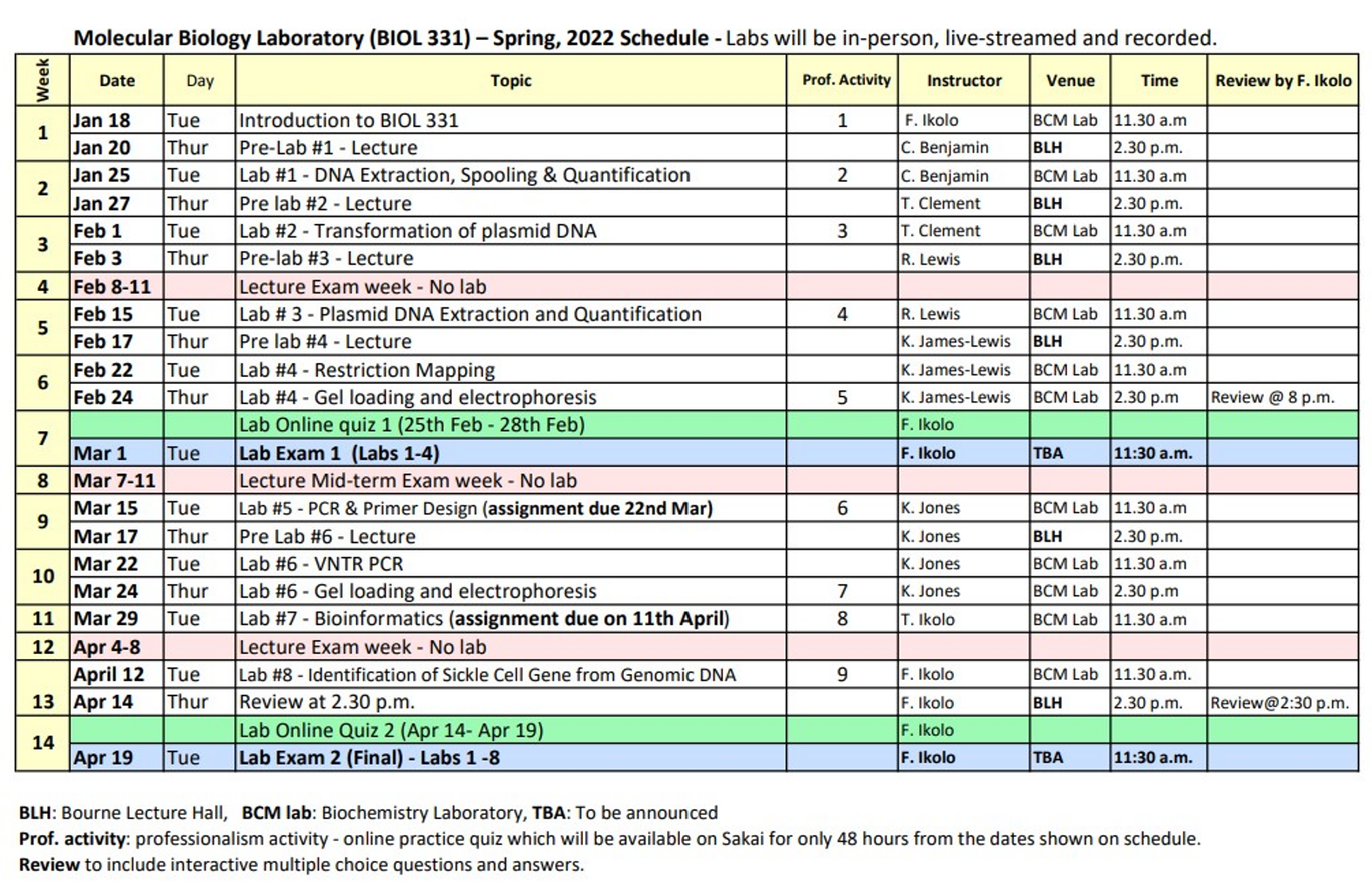 Etiquette Guidelines
Classroom Etiquette
Safety considerations during physical presence and activity in any molecular biology laboratory:
A laboratory coat must be worn in the lab at all times.  This will protect you and your clothes from any contaminants that may be used during the laboratory experiments.

Shoes must have closed toes and heals, NO SLIPPERS, NO FLIP-FLOPS, NO SANDLES. You may be asked to leave if you are not dressed properly to conduct an experiment.

In general, gloves should be worn during the lab exercises. These will protect your skin from contaminants.  In addition, your skin contains enzymes that can be transferred to your experimental reactions and affect the results (e.g. DNase).

Gloves are NOT worn outside the lab. You do not wear gloves to go to the bathroom, to handle doorknobs, do not handle your pen, do not scratch your face... Think about what is on the glove and what you may transfer to an innocent person that passes through the lab. Think about your pen, when will you use it again? Think about your notes, where will you bring them after the lab? DO NOT CONTAMINATE SURFACES FOR YOURSELF OR OTHERS by keeping your gloves on when they should not be.

Use caution when using equipment for heating or melting reagents (e.g. Boiling water baths).

Use caution when using the centrifuge apparatus.   Beware of long hair or lose clothing that may get caught by the centrifuge while spinning.

Exercise caution when dealing with electrophoresis apparatus.   High voltage is involved.   Despite there being safeguards to prevent getting an electrical shock while the electrophoresis apparatus is running, caution should still be used.

Be careful not to get any of the stains used to stain the DNA gels on your skin or clothing.   Methyl blue-based stains can cause your skin and clothes to turn blue and is difficult to remove.   Ethidium bromide-based stains can be mutagenic.

Wash hands thoroughly with soap and water after handling laboratory reagents and especially prior to leaving the laboratory when the session is completed.

Do not pipette solutions with your mouth.

Cell phone usage is not allowed. Phones must be on silent and put away during the lab time. Cell phones are NEVER to be placed on the bench.

WHEN IN DOUBT ABOUT ANYTHING – ASK YOUR INSTRUCTOR.

REPORT ANY ACCIDENTS IMMEDIATELY TO YOUR INSTRUCTOR
Online Etiquette  
Students of St. Georges University, Molecular Biology BIOL 331, who create/contribute to social networks, blogs, wikis, or any other type of social media both on and off the sgu.edu domain for school/work/personal purposes WILL NOT post or release proprietary (including all information found on or within databases of any official SGU websites such as SAKAI), confidential, sensitive or personally identifiable information about SGU faculty, administration or employees as well as any faculty intellectual property, to ANY social media websites. Failure to abide by this will be considered a violation of professionalism as indicated in the SGU Student Handbook.
School of Veterinary Medicine Master Syllabus

— Info for All Sections

ExamSoft Policy

All students are responsible for knowing and complying with the University's  Code of Conduct and the guidelines. Students must read and then sign the Honor Code statement at the start of examinations to indicate that they will comply with the University Code of Conduct. 

 
Prior to Exam Day
Each student is required to have a laptop for the purpose of taking computer-based examinations (e-Exams) at SGU. Students must ensure that their laptops meet the current minimum system requirements prior to exam day:
Examinees must use their MY SGU Member Center username and password to access the Custom Home Page (www.examsoft.com/sgu) created by ExamSoft for the University.
Examinees are responsible for downloading and registering the latest version of Examplify on their laptop prior to exam day. Once Examplify has been successfully downloaded, examinees are strongly encouraged to familiarize themselves with the software by downloading and taking practice exams.
Examinees are responsible for setting their laptop up for ExamMonitor prior to the exam (see links below).
Examinees will be notified via MyCourses, of all exam related information. Email notifications will also be sent from ExamSoft Support to examinees, notifying them of examinations available for downloading.
Examinees experiencing difficulties with their laptop are encouraged to visit the IT department for assistance prior to exam day. Examinees needing a laptop must visit the Office of Institutional Advancement (OIA) to request an exam loaner.
Examinees should visit the following information to familiarize themselves with the online proctored exam format and set up their baseline photo.
Disclaimer
Copyright Policy
The materials (such as slides, handouts and audio/video recordings) provided to students who are taking courses at St. George's University (SGU) are the intellectual property of the Faculty and/or Administration of SGU. Students are free to use these materials solely for the purpose of group or individual study. Reproduction in whole or in part is prohibited.